Our Values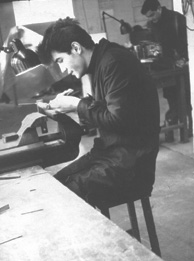 To realize a creation Lucchini Milano is neither easy nor easy to copy; on the contrary it requires a lot of time and high-level mastery, since it's our concern to maintain and enhance all those manual procedures exalting their uniqueness and originality, the centerpieces of the authentic Italian product.
For this reason, every creation of ours isn't merely an object, but the concrete result of
passion, tradition and mastery giving birth to real art in solid shape, which must follow the Three Lucchini Milano Criteria:
1. Handmade: We physically put our engagement in our
creations; for this reason we can say that every Item Lucchini Milano is really ours.

2. Rigour: We are very meticoluos about every production stage, because beside customer's final satisfaction, we are interested in being personally satisfied and proud of what we realize.

3. Accuracy for presentation: every creation represents our prideand our history, so we take particularly care of its presentation, in order that it could be an appreciated gift for you to receive and a reason to be satisfied for us and our sons.